Blog Archives
It was an amazing comic. A man has become a muck-monster, his humanity just a memory, seemingly limited to minor human-interest horror-adventures in a swamp, but somehow a magnet for society's psychological ills, even attuned to cosmic insights, and eventually limping, looming into the central intersection of ultimate forces … Yeah, it's great, man, Alan Moore's Swamp Thing was really someth — wait, you're talking about 1973?
It took a lot of working out the context in my mind, but I'm finally ready to look at a very interesting species of comics villain.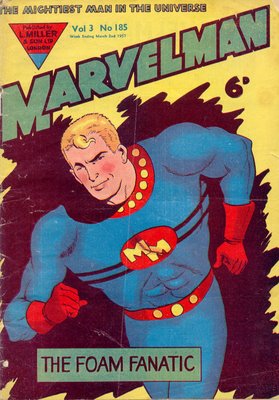 Superman, Captain Marvel. Captain Marvel, Marvelman. Marvelman, Captain Miracle. Marvelman, Marvelman reboot. Marvelman reboot, Miracleman. Paralleled by a completely different Captain Marvel too, oh wait, then another one, which is to say, four of those, plus Ms. Marvel, oh wait, three of those. What th'fuck?