Marvelous, meet miraculous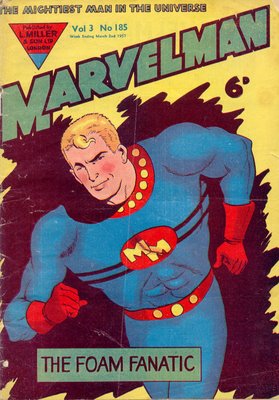 Superman, Captain Marvel. Captain Marvel, Marvelman. Marvelman, Captain Miracle. Marvelman, Marvelman reboot. Marvelman reboot, Miracleman. Paralleled by a completely different Captain Marvel too, oh wait, then another one, which is to say, four of those, plus Ms. Marvel, oh wait, three of those. What th'fuck?
Think of all those Victorian-Edwardian-WWI Brit dramas arriving near-constantly for more than a century, like The Forsythe Saga, any of the sources (Forster, James, et cetera) for Merchant Ivory films as well as the films themselves, Upstairs Downstairs, Gosford Park, Downton Abbey … Each one is wholly founded on a highly specific legal conundrum which, to the audience, is clearly a bizarre artifact limited to that particular period, but to the characters, is perceived as immutable natural law. Thus the various personal decisions and fates in the story are spun into what would otherwise be completely mad shapes.
This funnybook spandex-and-superpowers saga is exactly the same. It is wholly the product of specific details of U.S. publishing legalities and IP canoodling within them, and the result is … strange, and yet strangely enjoyable. Here's the crazy diagram I did for it, but you don't have to click, as I've broken out pieces for images here in the post.
I did no original research for this! It's all available for you already, via Wikipedia, TV Tropes, and tons of articles like The Super Miracle of Captain Marvelman! and Comic book a day: Day 16 – Captain Marvel #1. This post is mostly my native urge to put information into visual timelines with added pictures.
It does provide a solid piece of the concepts I've been working out via Looking for a hero, Striking twice, some day, The true stalwart, Super, thanks for asking, and We got this. Who or what is Superman, when there is no "is?" A great deal of it lies in this historical tangle and tug-of-war and loophole game across not two, but eight comics companies and sequentially, at least a dozen owners.
Here's what you see there. Superman gets published by DC, synthesizing all manner of pulp and Sunday funnies material into a striking new concept. Fawcett immediately creates a superhero character, who I suggest was not so much an expy as a competitive alternative: he has way more powers, can fly, and operates at a more cosmic and magical scale. Perhaps aided by all this glam, Captain Marvel outcompetes Superman throughout the 1940s, gaining a "family" of female and child versions and moving directly into film serial format, which if you think about it, is a pretty big deal right out of the gate like that.
Significantly, Superman steadily acquires many of his rival's features, including flight, fun-for-kids emphasis over politics, the costumed-supers "family," and the space/cosmic content. In fact, let me put this plainly:
Superman preceded Captain Marvel, and the latter is documented as a "make me a character like that!" creation.
Superman's best-known, allegedly canonical features were looted from Captain Marvel over the next decade.
Therefore, "who is the first" is only answerable in terms of both characters. They were first.
Once National Periodical Publications acquires DC, it amps up its IP game by cease-and-desisting Fawcett, claiming they swiped Superman. Fawcett wins its defense vs. the resulting suit … but Fawcett Publications is closing down Fawcett Comics anyway. Possibly this has something to do with the campaign vs. superhero comics that would soon produce The Seduction of the Innocent. Anyway, therefore Superman comes out ahead despite the failed lawsuit and as far as comics culture is concerned, "is" or "owns" the flying, somewhat wacky, family-of-powers, and other trappings that Captain Marvel had introduced.
Superman is pretty much the only superhero to blossom during the 1950s. The patriotic, all-American image he'd acquired during WWII serves him well vs. the Commies, with his original Depression-era punch-the-bosses identity scrubbed clean off. He also demonstrates that being on TV legitimizes you, even proofing you against the essential destruction of your parent medium. (Useful contrast: not even the similar WWII-vet, anti-communist Captain America saves Timely from that destruction. The key really does seem to be TV.)
You'd think that'd be the end of the Captain Marvel character. However, for some time since the 1940s, I'm not sure exactly when it started, his Fawcett adventures have been reprinted in the U.K. by L. Miller & Son. By 1953-54, as Fawcett Comics material is no longer forthcoming, LMS publishes an expy called Marvelman whose serial numbers are barely painted over. He gets a "family" too, Marvel Boy, et cetera. The creator was Mick Anglo; as the 50s and LMS came to a close, he claimed ownership of Marvelman and briefly published its reprints as Captain Miracle.
By 1960, though, Fawcett Comics is long gone, LMS is gone, and Mick Anglo Comics is gone, so these shenanigans were all over, leaving Superman alone at DC. Thus Captain Marvel Miracle Man would still be utterly obscure and inconsequential, except then …
First, which is too small to put into the diagram (until I get the chance to edit it, and also, thanks to Chris W for mentioning this in the comments), in 1966, the short-lived company M. F. Enterprises published a wholly novel Captain Marvel, created by Carl Burgos (no small person in these histories). He's wonderfully weird – an android who splits apart – and battles a surprising number of fun villains during the short run. Hardly coincidentally, one of his important words is "Xam." I don't suppose you'll miss the other character reference on this cover, either. As a perhaps forgotten point, during this period, the name is not being used by Fawcett and they have no comics publishing division – so using the name for a non-image-infringing design is not "stealing it."
Down the street, this other comics imprint had just appeared within a minor publishing company whose comics haven't been consequential since WWII; you might have seen it peep into existence in 1961 at the tail-end of the first diagram. The new shenanigans occur as this li'l upstart imprint – considering its name is "Marvel" – and possibly in response to the Burgos character – swiftly launches its own use of the name (this is where I repeat, nothing is being stolen here, legally speaking). Roy Thomas, characteristically, incorporates many features from the Fawcett guy, as well as assigning the character's actual name to be "Mar-Vell." Mercifully he receives a more hip costume almost immediately.
Second, corporate doings are afoot. DC is launched into the big time when NPP and other properties like Warner Bros are acquired by Kinney National, and the latter changes its name to Warner Communications. Can you say "conglomerate?" I knew you could. On a smaller scale, Goodman Publications, including its little Marvel office, is snapped up by Perfect Film & Chemical Corporation, soon renamed Cadence Industries. Much larger legal muscles now flex:
DC licenses Captain Marvel from Fawcett Publications
Cadence cease-and-desists DC from using the name "Captain Marvel," citing its existing character
That's why the title at DC and its corresponding kids' cartoon and live-action TV shows are called Shazam!, and the character's name Captain Marvel isn't used as a trademarked title – although they pushed it in captions as hard as they could. This was the first of several shots by Feinberg's Marvel across DC's bows; soon it would break free of a restrictive distribution contract too.
DC has to work a bit to keep their newly-acquired character distinct from their own showpiece, considering how much the latter had absorbed from the former. The solution was to focus tightly on the kids' market, lightening and cute-ing him up while giving Superman a more grown-up, team-leader, serious demeanor.
The 70s were a weird time, especially at Marvel, including in this case two things: Jim Starlin seizes Mar-Vell for a truly crazy, awesome constellation of stories, basically free from editor oversight, as I've written about in Paint my van and Cosmic villainy; and Cadence keeps the pressure on DC to prevent it recapitulating its Captain Marvel's traditional "family" concept, or indeed, from getting more use out of the name "Marvel" at all. Hence not too much later, a sort-of Captain Marvel "family" gets going in distinctive 70s language: Ms. Marvel, whom I've written about already in Carol Danvers spits on your grave. They don't get to the point of a Marvel Dad, Marvel Mom, Marvel Boy, Marvel Dog team thing as seen for the older characters in the 1940s and 1950s, but both Captains and Ms's will continue to pop up at Marvel to keep that IP going.
Think horizontally for a sec: you have a dignified decent-guy Superman at DC reinforced mostly in Superfriends and soon in the Superman film, although the comics are really all over the place at this point (DC editorship undergoes a sea-change about now); there's a goofy Captain Marvel in the Shazam! comics series and cartoon, including his resurrected family characters; there's a trippy bad-ass Captain Marvel at Marvel, one exposed nipple short of outright psychedelic comix especially once Warlock gets rolling; and there's a bread-and-butter, Spider-Man story style Ms. Marvel over there too. I won't even get into the potshots taken by each company via other expys, like Hyperion for Superman and so forth.
But still, all is reasonably amicable as far as the U.S. companies go, probably "I won't sue if you won't." Then those Brits get feisty again.
Let's take a look at DC during the mid- and late 80s, as the licensed Captain Marvel is brought into their fast-developing "universe." They have to specify him even further away from Superman, who's undergoing his own re-imaginings via John Byrne and others, not to mention a thorough shellacking in The Dark Knight Returns.
The solution is to stay with the initial "lightening up" strategy from the 1970s, making him a comedic character. They junk the original concept that the normal-person identity, Billy Batson, and the super grown-up Captain Marvel are different people (which Marvelman, Mar-Vell, and Miracleman all maintain), such that the latter has Billy's mind, which is written as notably dingbat-y and naive even for a kid.
Here you see the myth of the Golden Age, which I cranked about a bit in Striking twice, some day:the notion that superheroes of the 1930s and 40s were necessarily innocent, idealistic, cheerful, and outright dumb. It's both revisionist and false. The "innocence" palaver relies on cherry-picking (1) the patriotism troweled onto the characters during WWII, (2) the necessarily dumbed-down content for superheroes in the post-Wertham mid-50s, and especially (3) the 1960s Batman  TV show, itself born from, and as I see it, spoofing #2. Neither of these were original to superheroes, rather to the contrary, since so many of the 40s characters were derived directly from the dark-and-bloody pulps. I think this spin on Captain Marvel, once at DC, plays a big role in both the myth's creation and in keeping it alive. (See When were superheroes grim and  gritty? for some good thoughts, but I am willing to apply the author's points considerably further back.)
Now what was I saying about feisty Brits? It starts innocently enough. Over in the U.K., a B&W mag called Warrior hires a lavishly-maned and bearded comics fan to write new Marvelman stories in 1982. That character was fondly remembered there although known to exactly no one else, and this particular author happens also to be a die-hard 1960s Superman reader. His creative proclivities are similar to Roy Thomas' from 15 or so years earlier and he sets to writing a re-imagined version who both celebrates and critiques the earlier material, as well as being embedded deeply in the politics of the day.
At this very moment, DC's new management seeks cheap-ass labor in the U.K., and this same fellow, one Alan Moore by name, is among those lured over the shining sea in 1983 – in this case, given the throw-away title Swamp Thing, long past its Wein-Wrightson heyday, to keep him busy. Warrior's Marvelman is left unfinished.
By 1985, Moore's and Steve Bissette's Swamp Thing is big-ass box-office, a whole of swarm of oddly-accented fellows from those islands is tearin' up the DC joint, someone is bandying about the word "Vertigo," and the company seems fair to be creating an actual Universe too, Marvel-style. DC management also starts thinking about mining its new hotties' pre-transfer oeuvres, like V for Vendetta and … the owners of Eclipse Comics, thinking quickly, license the now-defunct Warrior's Marvelman material to reprint before DC gets to it, and they even get Moore to continue it for them.
Down the street from DC, Marvel the entity is undergoing yet more ownership storms: Cadence's owner, Sheldon Feinberg, is desperately attempting to unload it before the house-of-cards finances finally blow apart, and Jim Shooter's editorship is deteriorating over multiple ownership and creative crises. After that it's in the hands of New World Entertainment and the DeFalco editorship begins.
Its own Marvel-ness in characters has taken some twists and turns: Mar-Vell has actually died, as in for real, which never happens; Ms. Marvel has been raped and evicted from immediate use as I wrote about in Carol Danvers spits on your grave. And get this: in 1985, another character named Sharon Ventura then gets to be Ms. Marvel – and she gets raped too, and goes on to various re-inventions, including becoming the She-Thing. She also seems remarkably absent from the retrospectives and critiques of the Marvel-named women I've been finding. I'm not sure what's to be said about that except %#**@!??, and when the dissertation jockeys get to the point of working it out, sign me up for a copy . [this section was edited 10-19-16 with thanks to James for alerting me to these events; I'll revise the diagram soon -RE]
More or less simultaneously, beginning in 1986, a completely original Captain Marvel has appeared in the Avengers. This one is Monica Rambeau, perhaps the first straight-up, non-messed-up, powers-and-costume black American female superhero smack dab in ordinary continuity, ever. (Storm comes close to that title, but she was and is entirely within the X-bubble.) Authored by Roger Stern and surprisingly endowed with seriously powerful powers that do not conk out, – well, until Stern is off the book, they don't – she deserves some focused-post attention reasonably soon. In corporate terms, of course, as with Sharon, she's flatly and only an IP place-holder.
So, I'd mentioned Eclipse and reprinting Marvelman. Marvel the entity blinks. Wait, what? Peering muzzily across the continent to Guerneville, its management realizes that someone is using "Marvel" on U.S. soil. That neural connection still works! Whoop, whoop! Cease and desist! OK, says Eclipse, we'll call him something else, and presumably Moore welcomes the chance to mix in the meta even more by invoking Mick Anglo's re-naming of his character in a new portmanteau, Miracleman. So Eclipse publishes first the British reprints from Warrior with the new name lettered in, and then continues with original work from Moore using that name and no other.
Think horizontally again, right about 1986: Moore's later-stage Swamp Thing, his new work on Miracleman, his Superman material including Whatever Happened to the Man of Tomorrow? and the beginnings of Watchmen are all happening at the same time. It drives home that Moore's history isn't revisiting the same meta-concept hero-revision + godlike-guy over and over – I think, instead, it's that while he's quite viscerally working-out this topic for a relatively brief period, he happens to be writing more than one title. Same goes for his prolix captioning (another Thomas parallel), which might give the impression that he wrote like that for a long time, but as far as I can tell, it was only a couple of years.
To continue with the history, things quiet down a little. Marvel's new owners, first New World Entertainment and then Compact Video (a shell inside Ron Perelman's various companies), oversee, or rather don't oversee, a period of editorial and creative meltdown. Characters named "Marvel" are apparently not developed much at this point there. Eclipse carries Miracleman into the 1990s with Neil Gaiman as writer until the title finishes in 1991, and the company – having suffered some bad luck for a while – closes in 1994.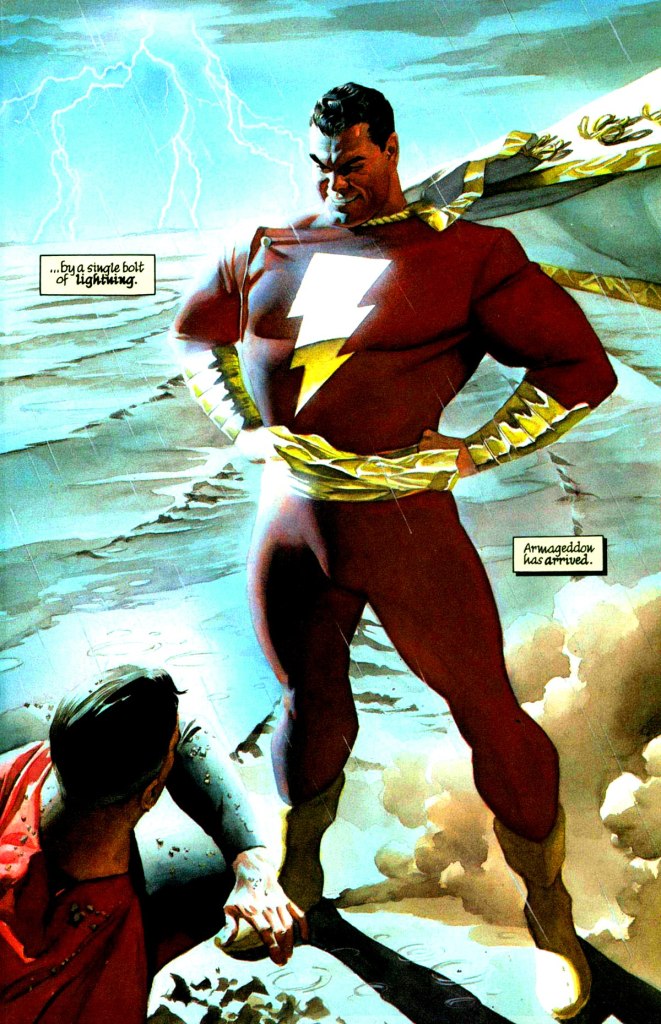 Little rumbles come from DC, though – for example, it shifts from its licensed use of Fawcett's characters and purchases them outright in 1991. Captain Marvel's finally at DC to stay, most consistently in the title The Power of Shazam! It's still a bumpy ride. The concept just won't settle down and stay write-able. Writer after writer, some quite knowledgeable, retcon or re-write his origin and characterization, trying to frame it in some way always in comparison with Superman, or with the tricky presumptions about what Superman must be.  Each one tries to blend "light and funny" with "dark and edgy." The one thing that sticks – having been locked down during the 1980s in the readership perception – is the notion of "Billy's mind in, but out of place in, the grown-up super-body." Trying to make that work for non-comedic purposes tends to keep devaluing the character into pretty much a walking disaster, up to and including making him an outright psycho in Kingdom Come.
He remains a designated lab subject for "how will we write him this time," eventually gaining solidity only in the animated versions. However, even there, if "Clash" (2005) is any indication, no one can still decide which of the two front-and-center, first-ever-superhero characters is supposed to be providing the moral compass for the other. (Incidentally, Moore's busy with yet more Superman-ish stuff over in other venues, as I'll be posting about soon.)
At Marvel, given that what follows takes place across the Perelman purchase, the bankruptcy, and the Perlmutter-Arad purchase, I'll let you work out how much of it is spastic marketing vs. brilliant creativity. Under the new owner Marvel Enterprises, the character-name Captain Marvel fires up again and sees quite a bit of action: Monica Rambeau undergoes various re-imaginings as I'll be writing about later, and a bunch of new "Vell" characters show up to trade the name around, in, finally, a genuine callback to the "family" concept for Mar-Vell. I'm not gonna go into plots and details, it's a zoo, but it's a Marvel Comics zoo, thus no particular mystery, and it doesn't impact the former Fawcett character situation over at DC. Again, the two primary companies are apparently content to conduct their respective "Marvel"-named business independently.
But the middle of the diagram heats up! Todd McFarlane, about whom a footnote would say volumes at this point, purchases the Eclipse properties that are, as he claims, just sitting there. He begins to incorporate Miracleman material into his series under the Image Comics umbrella, Hellspawn and later Spawn. Gaiman objects, invoking the creator ownership clause under his work for Eclipse, and brings a lawsuit, during which McFarlane continues to use the IP, including that most McFarlane-y of items, an action figure. And a bankruptcy ploy. Oh, and another name re-arrangement for a purportedly yet curiously familiar new character, Man of Miracles. Cue a lot of industry and internet buzz; it's exactly the sort of personality, legal, creator-cred, identity politics tangle that comics people like to fuss about.
Now for two outcomes in 2010 that no one expected.
The Gaiman-McFarlane lawsuit concludes in favor of … Mick Anglo! No one ever owned it besides him, says the court, everyone else go the fuck home. Cue my amusement at two guys waving "creator ownership" rhetoric at each other only to be rug-pulled in favor of the actual creator and owner.
Disney buys Marvel. Somewhere nameless, Shelly Feinberg smiles an evil smile and flips Warner Communications a big fat finger. The Mouse bestirs itself and looks around for useful IP.
You can see where this is going. Just as, at the left-hand side of the diagram, Warner Bros drew Captain Marvel into DC by stages, now Disney at the right-hand side does the same to Marvelman, at a different pace. Marvel buys the Anglo and Eclipse kit and kaboodle in 2010.
Unlike a lot of such acquisitions, however, I must admit the net gain this time: 2010 brings an immediate reprint of the 1950s Marvelman and Marvelman Family, which provides much-needed monetary help to Anglo in his final years; and 2013 brings a high-end, hardback collection of Moore's and Gaiman's work at Eclipse, called Miracleman as that was the Eclipse usage and presumably to avoid much confusion. (Moore refuses to let his name be used, so he's billed as "The Original Author.") Gaiman's busting out his conclusion to the Eclipse series for upcoming release under this imprint, beginning with issues that were never released by Eclipse. Which taken as a whole is pretty cool, really, because if and when we see an all-new all-MARVEL Marvelman, regardless of continuity or lack thereof, at least his full heritage is available for appreciation.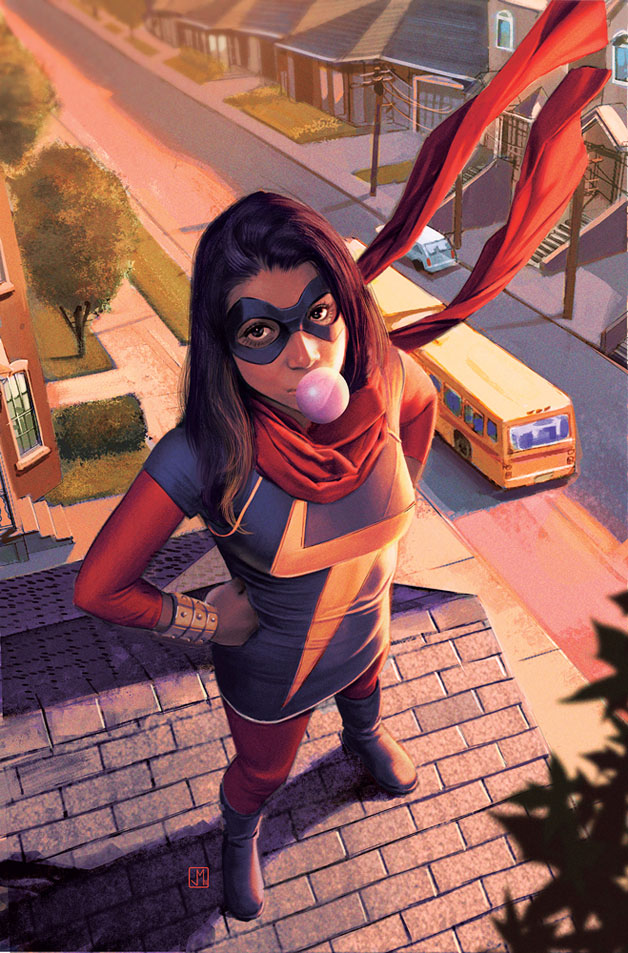 Meanwhile there's something else kind of cool happening too: the women of the Marvel name seem to have resurged. And setting aside a bevy of cranky points I could raise, they're actually bad-ass. Monica Rambeau is rebooted this time witha discernible personality and an impressive longcoat; there's Carol Danvers finally dubbed Captain Marvel in 2012, which seems only fair; and of course, the Ms. Marvel moniker is now held by perhaps the most faithfully-Marvel Marvel character in decades. Somewhere in my jaded interior, a certain interest in actually following a Marvel comic flickers.
So this is indeed a story of absurd IP shenanigans and ultimate corporate triumph, and in general, I'm no special fan of Warner Bros and Disney running the comics joint … but just this once, it's a good day.
Links: Think you know it all now? Then I'll just leave this here. 

Next comics: Sword of God, Friends, p. (October 18); One Plus One, Two, p. (October 20)

Next column: Super bad (October 23)
Posted on October 16, 2016, in Commerce and tagged Alan Moore, Billy Batson, Cadence Industries, Captain Marvel, Captain Miracle, Carl Burgos, Carol Danvers, DC Comics, Disney, Eclipse Comics, Image Comics, Kinney National, L. Miller & Son, M. F. Enterprises, Man of Miracles, Mar-Vell, Marvelman, Mick Anglo, Mick Anglo Comics, Miracleman, Monica Rambeau, Neil Gaiman, rape, Roy Thomas, Shazam, Sheldon Feinberg, Steve Bissette, Superman, Todd McFarlane, Warrior. Bookmark the permalink. 27 Comments.