Very special effects
This is my first detailed post in a series comparing first-generation Champions (1982-1985 publications) and GURPS: Supers (1989). The blog has received some new readers who are invested in the issue, so (i) welcome!! and (ii) let's try for extra civility, learning-curves, and no-blood-no-foul, all around.
The topic today: how rules-in-text relate to what's imagined-and-said-and-heard during play. I like to call that latter part the shared imagined space, but it's fair as well to call it the fiction. Early role-playing felt rather than talked its way through this topic, until Champions came along – the first text actually to lay down how they were supposed to relate.
One quick definition before we start: the "rules." This term is both loaded and molten in role-playing culture, and I have to be careful with it. I'm using it to mean how play – and in these games, points – are organized in use, and I'm also distinguishing between text and whatever it is you or I actually do at the table with it. I'm not using the term either as authority – "the rules say, thus you must" – or as a pejorative – "screw the rules, we do real role-playing."
I'm focusing on the term special effects, introduced by this very game.
Champions (first-generation, 1982-85)
The rules in this case are naked of fictional content and organized in terms of mechanics, so you have to specify what the character does in fictional terms yourself. That's what special effects are: "nova blast," "mystic mastery," "spider-y things." The rules, here meaning the instructions based on points and dice, are a kind of anatomical mechanism for making things in play "go," and the special effects are how to describe and visualize them.
If such a thing does little or nothing in play beyond what the current rule in action does, then it remains what I'll call "soft" – we describe and visualize that you're shooting loopy-looking drug gas and not, for example, ice or fire, and that's it. A modern word for that is "skin." That's what the black arrows are doing in the following diagram: we use the rule but describe it with the special effect.
However, and the text is explicit as hell about this, the GM may assign a special effect a more consequential fictional impact at any time during play – exactly as if that effect were a textual rule. It might hit harder, it might do half effects, it might not work, it might shut down the thing or foe it's hitting entirely, it might do some wild thing that no one intended or knew could happen. This procedure has no point cost, no pre-arranged parameters, no number-of-use limits, no "metagame mechanic," no nothing in rules terms beyond the standing permission to do it – it's simply that the GM thinks this special effect ought to get some more fictional weight at this particular moment of play. In practice, when you have a fun working relationship among the people at the table, it's not solely the GM at all, as suggestions for such things pop up from anyone more or less regularly, often rubber-stamped by the GM.
That's what the red arrow is; I'm calling this a "hard" special effect. It's still damned soft in terms of textual rules, i.e., there aren't any being used at all beyond the statement that you can do it, but at that moment anyway, the power or whatever is affecting things in the fiction just as severely as any rule-invoked thing would have, in terms of qualitative and quantitative impact. Sometimes, and of those, often unplanned, the effect can be quite significant.
Off the top of my head, and acknowledging that these reflect my accustomed standards for the procedure, if you have a Gas Jet defined in game terms as a simple, unmodified Energy Blast, it may well affect more than one person if they're being hit at the extreme end of your attack range, or do some automatic damage to the guy in powered armor – solely because at that moment in play, it seems sensible or fun or "just right,"  for some of the gas to spread, or to seep in no matter what. Same goes for negative versions, e.g., the Gas Jet being half-effective when high winds or similar effects are present.
At least to my eyes, in this generation of Champions, special effects are much more than skins – they are, actually, the primal "matter" of the body-of-play, with the rules being a functioning subroutine within them. (Please note that nowhere am I saying that special effects override the rules. That is way not where I'm coming from.)
Now, it may be that you like a given nuance of your power's special effect so much that you want to see it in action all the time, or to put it differently, you conceive of the power in such a way that you cannot imagine it functioning without this effect, or to put it even more differently, it occurs to you that your power will be more effective if you spend points on making the special effect into a rules-driven feature. Having already, and necessarily, defined your Energy Blast (power) as Gas Jet (special effect), you find it easy to say, "you know, this really ought to have the Area Effect: Cone advantage and some Piercing points," or whatever you decide among the interesting list in the text; I chose those two to correspond with the fictional effects I spitballed two paragraphs above. Essentially, you're saying, let's not rely on in-the-moment inspiration for these specific elements of my special effect, instead, let's bake'em in using points so they'll become rules.
But the thing to remember is that in Champions, the logic never works the other way. In the diagram, that's why the red arrow goes from left to right. I stand by this as textual, not merely Ron's preference or quirk. It's flatly absent from the text that if your Energy Blast (power) is defined as a Gas Jet (special effect), it has to have any such mechanical thing built into its point construction. Go ahead and leave it unmodified, if you want, and let the gas jet details crop up in play, unconstructed. (Champions folks, more views about this are available at Math is not hard and the embedded PDF there; warning, it includes humorous snarkiness.)
A related point is that if you do jack up the complexity of your power's rules/point construction, an "envelope" of soft special effects still surrounds it, and those can be opportunistically turned hard during play as usual. Hardening particular special effects into rules-level modifications never replaces general special effects or reduces their potential presence in play.
Furthermore, the conceptual border passage between special effect and rule is made even more porous in this game through rules that only apply via special effects, and it's still in the left-to-right direction, as I've added here.
The Elemental Control concept grants a significant cost break for unifying powers through special effects, and although it wasn't a very effectively-used rule in our games, I'll talk about its significance to GURPS comparisons in a minute. We did get a lot of use from the more-radical Variable Power Pool, as I discussed in What does this power do? It throws out the baseline concept of the game's point structure, which is that if you buy X, you have less points to spend on Y, in favor of saying screw it, you bought every power, A to Z, with those points, usable strictly on the basis of special effects, and the point structure is there to manage certain when-and-how parameters – not "what." It turns what was an improvisational option, soft special effects becoming hard now and again, into the constant basis for playing your character's powers in the first place.
In both of these cases, the special effects drive the rules (in the case of Elemental Control, point costs; in the case of the VPP, managing which powers are currently available for the player to use) … not the other way around. To repeat myself a little, preacher-like, there are no rules in Champions which impose special effects, but there are rules which rely solely on having identified and on paying attention to special effects.
Here's a starting character I made up for this post: Miasma, built in three ways. I used the first-generation rules, with Champions 3rd as the baseline, including my spin on which supplemental material I prefer. I will be using her and the GURPS character I'll introduce in a minute throughout this series of posts – please focus with me, this time, strictly on the special effects issue.
What I hope you'll see is that, in play, her "fiction" would be almost exactly the same in all three, and what differs is based on turning potential hard special effects into rules. Conceivably, the first, "plainest" version might be played and GM'd such that many fictional events were the same, via opportunistically hardening special effects, as mandated by the rules-mods in either of the other two. The quantitative mods in Version 2 are specified versions of what could have been situational special effects when playing Version I, and the same goes for Version 3 relative to Version 2. The rules specifications don't give the ability to do those funkier versions of the powers; instead, those funky ways to use them were already potentially there to be seen in play as opportunistic hard special effects, and this numbers-play only locks them in as the default way to do it.
Contrary to many Champions conversations, few or none of the modifications I introduced in the second and third versions concern min-maxing for its own sake. The file includes some technical talk about that for those who care about it.
Cue videotape (hey, it's the Eighties)

I keep referring to the text this and the rules that, but let's be real & fair: here are the texts in the two games that present their philosophies about special effects. (Champions 3rd edition, 1985, George MacDonald and Steve Peterson, pp. 19-20; GURPS: Supers 1st edition, 1989, Loyd Blankenship, editor Steve Jackson, pp. 6-7)
I retyped them for those links. I really wanted to use scans of the pages but am currently scanner-limited. If anyone could scan the pages and send'em as two files, I'd really appreciate it!
There are lots of fun things to debate or analyze about those brief but rich texts. Is there really difference between side effects and special effects; how both authors get sidetracked by the issue of using the rules (which is fully explained elsewhere) as opposed to using the special effects without them, and more. But let's not get sidetracked ourselves. I want to look at the punch-home point in each regarding hardening special effects which are not codified in modifications, as an opportunistic technique in play.
At that level, you could read those as saying the same things, and historically, in 1989, I did in fact think they did. But I changed my mind after hitting the road with my rubber, i.e., playing, and now, looking back with almost thirty years of active reflection engaged, I really don't think they do. The difference lies not in parsing the phrase with hyper-legalistic care, nor in trying to winkle out what a given author may have meant, but in using the building-rules, playing the games, and seeing how the concepts described in each actually apply in the context of the rest of the game's features.
With all that in mind, in reviewing those texts, I see the point of the Champions piece as encouraging hardening non-codified special effects in play as much as possible, and the point of the GURPS piece as reducing the zone for doing so as much as possible, including parsing special vs. side. I'll try to make this case by completing my comparison with new diagrams.
GURPS: Supers (1st edition, 1989)

Here's my diagram for GURPS: Supers.
This should be familiar, perhaps reassuringly so. It's how most RPGs work: you have rules which, when employed, make changes in the fiction. Anything else fictional about the thing being used is colorful and fun to describe, but it does not, indeed cannot "do" anything in terms of impact on fictional targets or events. Or if so, very little and very local.
If you want your power or whatever to do something funky or specific to its special effect, well you just pony up the points or roll the right value or whatever it takes in that game to get the rule that does that. If you didn't make your gas jet a by-the-rules cone, then it does not catch targets in a cone-shaped area, even if you and everyone else happen to describe its appearance in the fiction as a cone, or even if the circumstances strike you as just right for it to do it this time.
Furthermore, in-fiction qualities are baked into the rules categories, both in "what it can do" and in point costs. For example, vibration power costs 9 points per level and its attack does 1d6-1 per level, whereas fire power costs 12 per level and its attack does more damage (1d6+1 per level). Why? Because that's just how vibration is, compared to fire, and the rules begin with similar comparisons in all directions and receive all their cost and effectiveness structure from there. All the different categories and abilities within them carry multiple verbal qualifiers, regarding both fictional circumstances and other rules. Examples are legion: the Fireball attack is incendiary; the Lightning Bolt attack carries an embedded Surge strike if it hits electrical equipment, plants under Plant Control slow pursuit by 50%, the Magic Power category cannot benefit from Extra Effort …
One could look at it this way: the GURPS powers rules have already built a Champions-style Elemental Control into each of many conceivable special-effects families of actions, then accordingly assessing the special effects into rules, assigning various minor benefits and limitations, and adjusting the point-costs accordingly. That's why my diagram includes the all-important "hard special effects" already in the rules box. (That's not a criticism: the vast majority of RPG design and play culture is arrayed in precisely this position; it's almost synonymous with the term "gamer." GURPS absolutely nails what this significant sector of the culture wants.)
Another way to look at it is that the names for powers in Champions,  although written as neutrally as possible, sometimes carry in-fiction implications, like Darkness …and yet it is also made clear that you're not to take any of them literally. One person's Darkness (power) may be the least-dark thing imaginable, like sheets of hazy, opaque light, or filling the air with mystic glitter – you start with the soft special effect and proceed into rules from there. Whereas the powers' names in GURPS are rock-solid in-fiction identifiers, from which each one's careful qualifications and its soft special effects proceed – if you want some other in-fiction identity, you might repurpose an existing rule if possible, but in many cases, e.g. Miasma's powers, it'd be better to write up your own in-house power category entirely using the others as a model. (That's not a criticism either: the existing categories are so clear that doing this is easy, and the text encourages it.)
I hope you can see what I'm getting at. Although one might read the two relevant text sections in isolation as saying the same thing, I think that when you apply the Champions text, you're forced to see the arrows "go to the right" because the rules part is so naked of fiction, and if you're inclined, the door to hardening special effects quite freely is wide open. Whereas in applying the GURPS text, if you wanted to harden a soft special effect during play, you'll find that quite a lot of that creative space, for lack of a better word, has already been noted and codified into the rules you're using for that power anyway.
In fact, here, I'll complete the GURPS diagram in order to nail that down, with the relevant arrow going left, much more so in rules-choosing and preparation than in the course of play:
I acknowledge that the GURPS text does indeed include a "special effects can matter" qualification, opening a window in my Do Not Cross line for an arrow to get through. However … with so many fictional aspects baked into the powers, taking into account the Nuisance Limitation as well, there is very little room in actual play for such things to crop up. The way to regard hardening an informal special effect as a one-off quirk of play, is already modeled against in the rules-to-effects features. The window, constrained between "too effective, you need to have paid points for that" and "totally inconsequential, just a special effect," is narrow.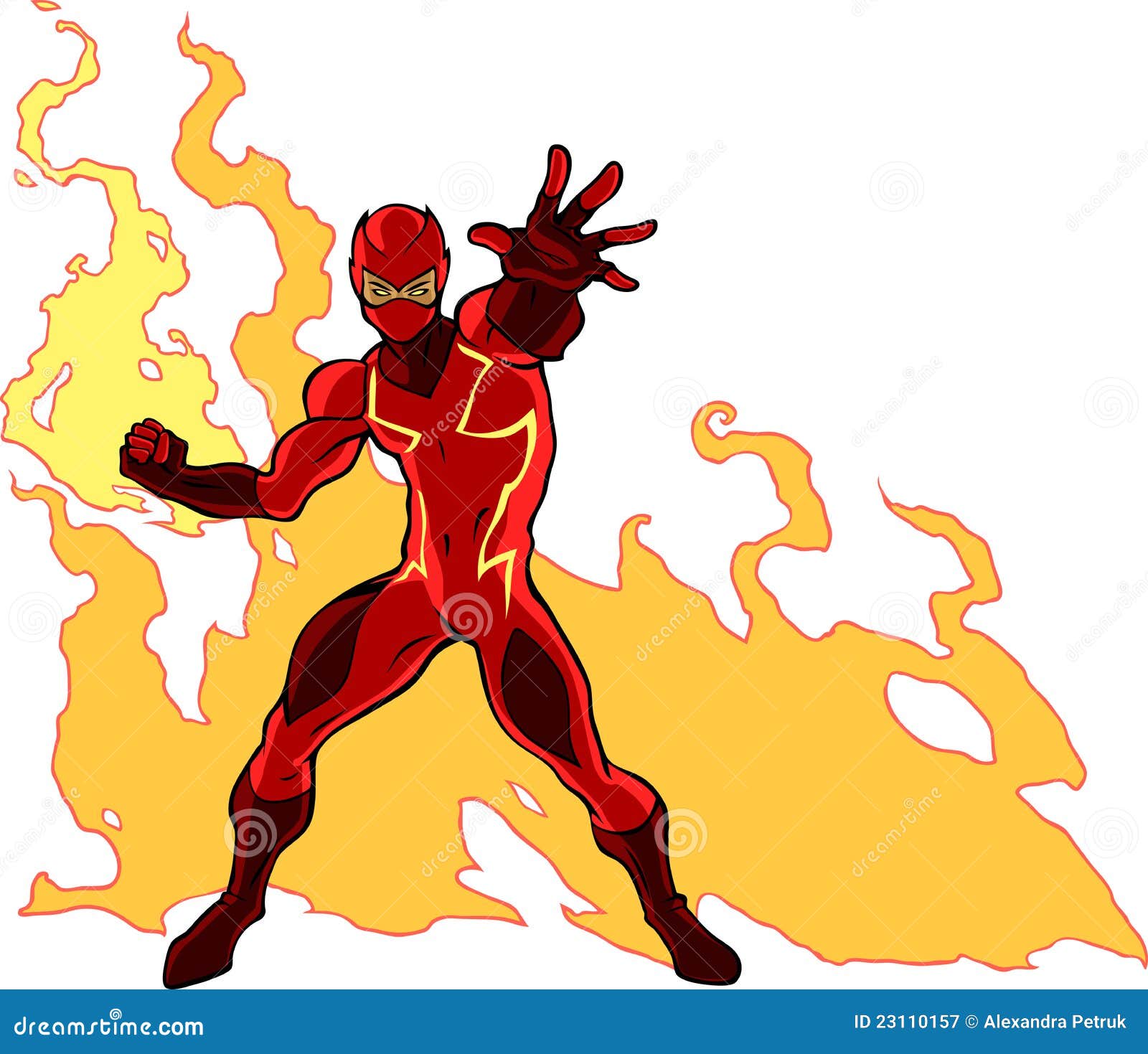 Here's Fireballs, who I confess has captured my heart in the moments of creating him. GURPS: Supers characters tend to do that to me, a topic I'll investigate in detail in a later post.
What I hope to show in that file is that there is no I, II, and III for Fireballs like there is for Miasma. Jacking around with Enhancements and Limitations is much more concrete than in Champions – instead of more or less hardening existing special effects, you're shifting whole parameters of play. The second version was really hard to keep within the original concept, then I hit a very hard limit in conceiving of a possible third, as any more building-in stuff would result in a different character.
Specifically, for Version 2, I was able to dramatize the already-existing potential for him to over-extend himself, building in Fatigue as a primary issue, so he'd furiously spend and regain it. To go any further, I'd have had to tap into the Limitations that would make his powers more dangerous and weird, like Fickle, Unreliable, Nuisance, and similar – all of which runs counter to my original, inspiring idea for him to be quite good at his powers, justifying his bad-boy humor, his Luck, his Charisma, and his tendency to go overboard, with the Jinx racking the emergent properties through the roof. Making the powers more dangerous and unpredictable basically turns him into a naive menace instead of a hero, as well as changing their soft and hard special effects considerably. Miasma hit a bit of a similar limit – but it's based on utility, not on full-bore personality and theme, and the actual special effects remained unchanged throughout all three versions.
I stress that none of this is about saving points in the budgetary sense, opening up more of them to use on more powers. I could do that, but I didn't. For both characters, I didn't touch certain baseline features which I considered central to who they were and which inspired me to play them in the first place: for Fireballs, especially, the young-lawyer skill-set, the Jinx + Luck, the conflict between Pyromania and Hero's Code of Honor, and the complete reliability and classical nature of things like Costume. The point was to Enhance and Limit his features to heighten the special effects' presence in play – and again, my experience in play and in making super-characters in these two games, of which Fireballs is easily the 1000th, convinces me that GURPS really means it when it categorizes anything and when it says "point limits," that the hardened special effects are pretty much already all there, and that you don't harden the soft special effects to blur the edges of what can be done beyond the tiniest possible amount.
Ifs, ands, and buts
I guess I didn't say it clearly yet, so here goes: both first generation Champions and GURPS: Supers refuse to be "skins" rules. The first avoids it by permitting, even encouraging opportunistic hardening of special effects, and the second avoids it by baking special effects directly into the procedures and points. The avoidance makes them very much alike, especially within their shared neighborhood of RPG design of point-build hex-combat … but the distinct ways they do it make them very different. OK, that's the hard line, and here are some of the grey areas.
1. Those two diagrams are so different they might as well be two different activities, and I acknowledge the games might not be so distinguished, especially when massaged by real people in actual use. All I ask is that you see if you can meet me in the middle. if you'll agree that I'm even 50% on the right track, I call that agreement enough and spot you all the rest.
2. The Champions supplements (II and III) – to my eyes – show a lot of author diversity toward these issues, to the point of outright philosophical differences. I think there's an inadvertent tug-of-war among the contributions, some building-up the potential of the first diagram, and some trying to get over to the second diagram. Obviously one of my stronger supporting points, the Variable Power Pool, is a supplement contribution, but conversely, there's also the addition of detailed skills, and the explanation of how the power Flash "simulates" the actual light-strike vs. the reflexive eye-blink, thus justifying two rolls rather than one. I'll look at this tug-of-war regarding skills, resources, equipment, and other stuff that may or may not cost points depending on who's writing, in an upcoming post.
3. Other aspects of the games aren't so isolated to the powers as such, but rely on emergent aspects, i.e., how different parts of the character's build interact. I alluded to this regarding Fireballs, in that I perceived an emergent framework among his point-cost parts which I refused to violate. I'll discuss these differences in an upcoming post about character identity, social class, and relevant conflicts, with special reference to how characters change.
4. It suddenly occurs to me that someone is typing, even as they read the post, "You say that like it's a bad thing." Uh – no, no, I'm not. The only case I'm making is that this distinction exists, and all this-way-sucks or well-I-like-it-that-way can be left to personal disclosure, without authority beyond oneself.
5. One missing component in this post is comics, including the obvious inspirations from the 1970s (Conway's Spider-Man, Englehart's Avengers, Gerber's Defenders) and especially those during the late 80s – X-Men, Elementals, Alpha Flight, The New Teen Titans, Watchmen, for instance. The looming presence is, I think, the drive to 'Verse at both Marvel and DC. I'll get to that topic for sure.
Thanks to everyone for reading this, and apologies to my more politically-minded and/or comics-first readers. I hope to show how more of these general interests are present in this series as it goes along.
Next: Being, having, and nothingness (July 30)
About Ron Edwards
Game author, publisher, consultant, teacher